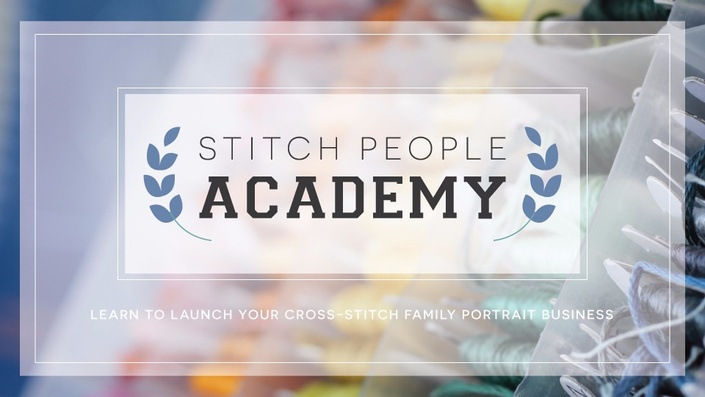 Stitch People Academy
Everything you need to know about selling cross-stitch portraits online
With Lizzy & Spencer Bean, the creators and owners of Stitch People, you can learn how to start and run your own business selling customized cross-stitched family portraits.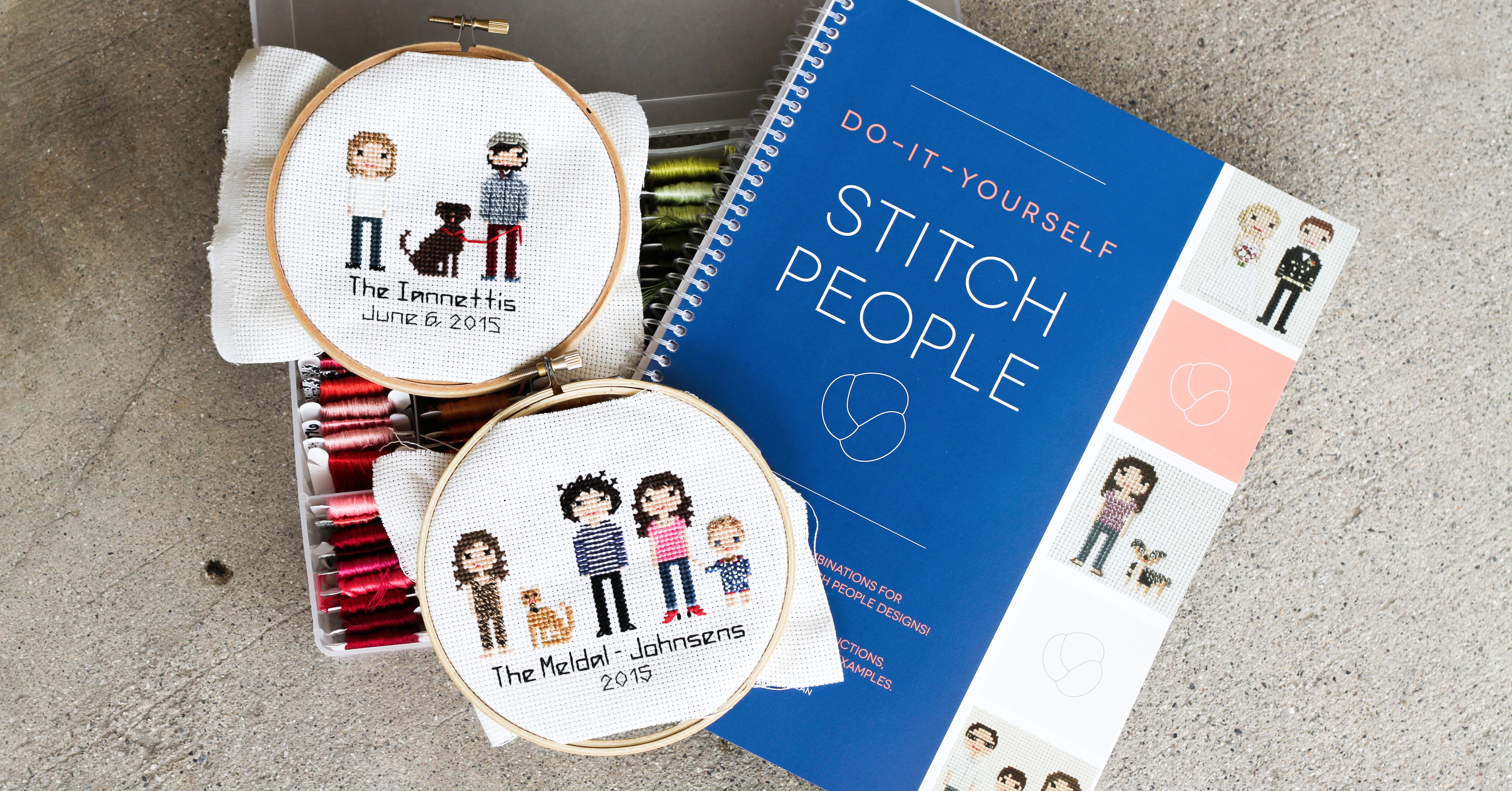 From business logistics, to photography basics, to customer interaction, to designing cross-stitched portraits, you'll learn all you need to know to get up and running with YOUR business.
WHAT'S INCLUDED IN THE COURSE?
All That AND a Bag of Chips
Our course is so much more than just a couple of videos about how to get set up online.
For less than the cost of what you could make in just TWO sales in the future, our course will:
Provide you with the most secure foundation possible to get you started on an entrepreneurial journey that will change your life.
Give you self-paced access to seven modules of information.
Our modules are well-organized and broken-down so they're easy to digest and understand.
Informational PDFs are included with each module to download, read, and review
Numerous worksheets are included for you to help you gain clarity about the direction of your business.
PLUS each module has extra resources listed - other places to go, extra things to read, additional things to do - so that if you feel you need more expertise in a particular area.
In short, you're not going to be left hung out to dry.
---

JOIN OUR COMMUNITY
We want to keep in touch, answer your questions, and guide you along the way! JOIN US. The greatest value you'll receive lies in our subscription-based group on Facebook, the Stitch People Academy Mastermind Group. That group is where the magic happens!

"Alone we can do so little. Together we can do so much." -Helen Keller
Have you heard of a business mastermind group? Napoleon Hill, the author of the famed book "Think and Grow Rich," was a super SUPER smart dude. He popularized the idea of the "mastermind group" which is basically a group of like-minded, highly-motivated people who share a common purpose. People who are doing great stuff and want to help everyone else do great stuff, too. Sharing. Support.
That's what our Facebook group is. It's community, not competition.

We want to foster the richest, most supportive community of cross-stitch business owners. We will be FAR more likely to succeed if we do this together. Napoleon Hill said it beautifully: Great achievement is usually born of great sacrifice, and is never the result of selfishness.
WHAT'S INCLUDED? More Bang for your Buck
You'll have access to SO much information with this course, but the real bang for your buck comes in the Stitch People Academy Mastermind Group. On our Facebook group we have:
Organic discussions, where Spencer and I contribute our ideas and advice

Tips and advice from around the craft world to help you get your business booming

Access to Facebook webinars where we get together and talk about popular topics
20% Discount on all Stitch People products (except the DIY book)
EARLY ACCESS to all new patterns and books released by Stitch People
We're always trying to actively foster relationships with other businesses, and will get our Mastermind Group access to discounts whenever and wherever we can.
Accountability

- this is arguably the most important part! We want to help keep each other accountable for our goals and our progress
We make friends. We do business. It's the gift that keeps on giving, and we want to see you there!

BET ON YOURSELF
There is a lot of evidence that people respond to financial investments. Ever wonder why it takes people paying for an art class vs. watching free YouTube videos to finally learn a new hobby? Or what about the 2008 study from the Journal of the American Medical Association? They published research findings that individuals who were given financial incentives to lose weight were five times more likely to meet their goals. Five times more likely.

We believe that when you put your money where your mouth is, you'll be more invested. If you're more invested, you're more likely to succeed.
We want that for you - SUCCESS!
YOUR INSTRUCTORS
Lizzy Dabczynski-Bean and Spencer Bean, founders and owners of Stitch People, will teach you everything you need to know to get your own cross-stitched family portrait business up and running.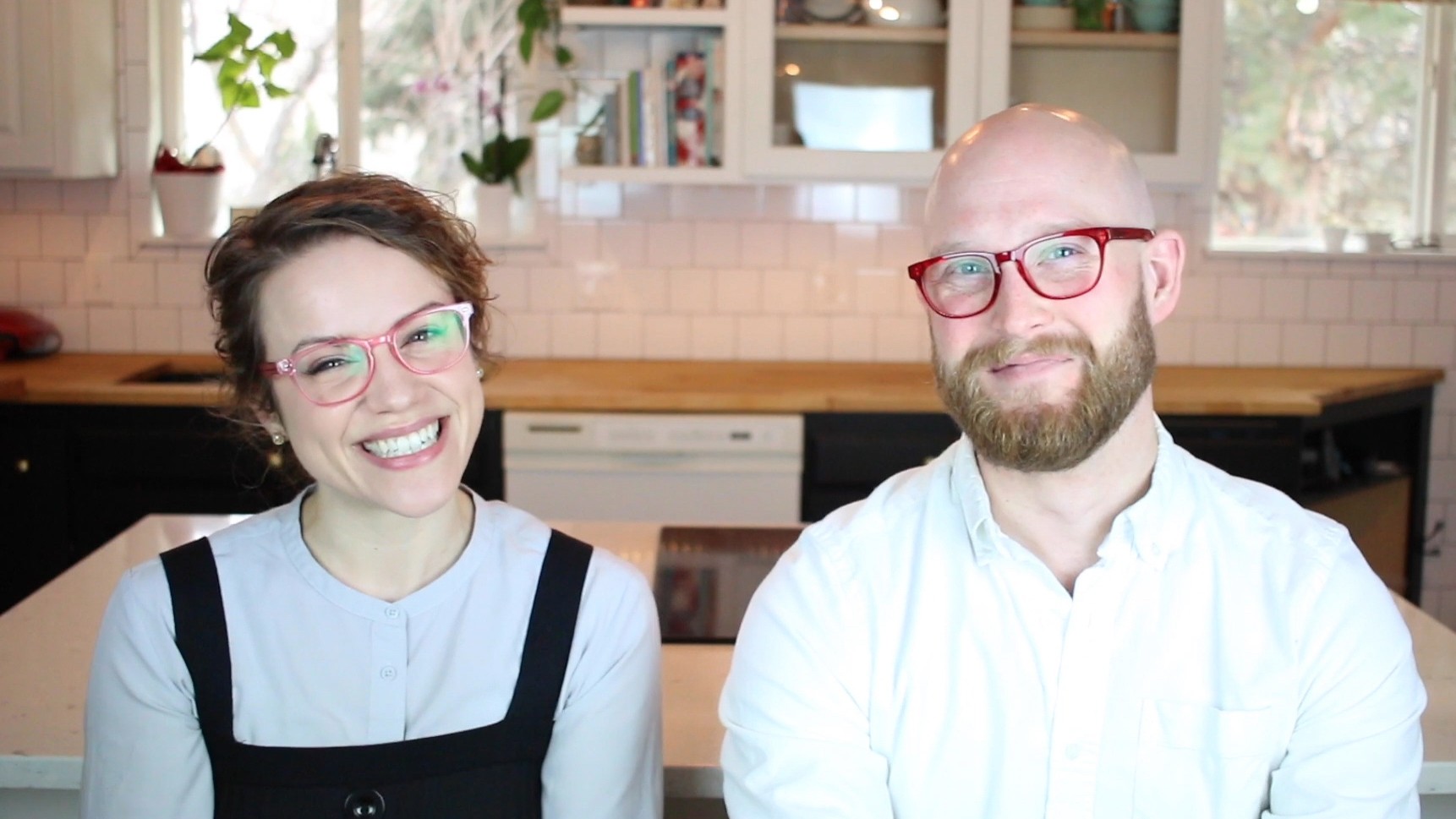 We have over 10 years and over 700 cross-stitched family portraits of experience.
Between the two of us, Spencer and I have a total of 10 years of experience running a cross-stitch business. I do most of the creative work: designing, stitching, etc. Spencer does most of the tech work: website, advertising, marketing, etc. And we've put our heads together to create this course for you so you can have an immersive, comprehensive experience that will teach you right off the bat what we had to teach ourselves along the way.
Aside from our Stitch People qualifications, we have college degrees in business and technology (and music, but I digress.) And we each have over 10 years of experience in technology- and business-related fields like software training, graphic design, website building, web app development, and customer service.
You can read more about Lizzy's story, below!
You can lead a horse to water, but you can't force it to drink.
This course is interactive. We want to be upfront and honest about that. It requires work on your part. If you are expecting to just watch videos and not do the work, this course isn't for you. Don't say we didn't warn you!
Frequently Asked Questions
When does the course start and finish?
The course starts now and never ends! It is a completely self-paced online course - you decide when you start and when you finish. In addition, we're always making tweaks to the course as we take your feedback into consideration and revise the lessons. It's a living course that you only have to pay for once!
How long do I have access to the course?
How does lifetime access sound? After enrolling, you have unlimited access to this course for as long as you like - across any and all devices you own.
What if I am unhappy with the course?
We would never want you to be unhappy! If you are unsatisfied with your purchase, contact us in the first 30 days and we will give you a full refund. We do recommend going through the entire program first and using the worksheets before you decide it's not for you—be sure to give it an old-fashioned try!
Will this course teach me how to run my business?
In our opinion, yes! We've done the best we can to provide you with tools, worksheets, and information to get you started with your own cross-stitch family portrait business. That said, it will take a lot of hard work on your part to make it happen! We're happy to support you, along the way, and we're confident that our course will be an invaluable jumpstart to your business journey.
Here's the story: I was miserable.
I was about to graduate college and I was in a bad place. Have you ever been in that situation? Where you wake up one day and realize you're entirely miserable for a myriad of reasons?

You're overwhelmed. You're underutilized. You lack excitement. You feel "off." You hate your job.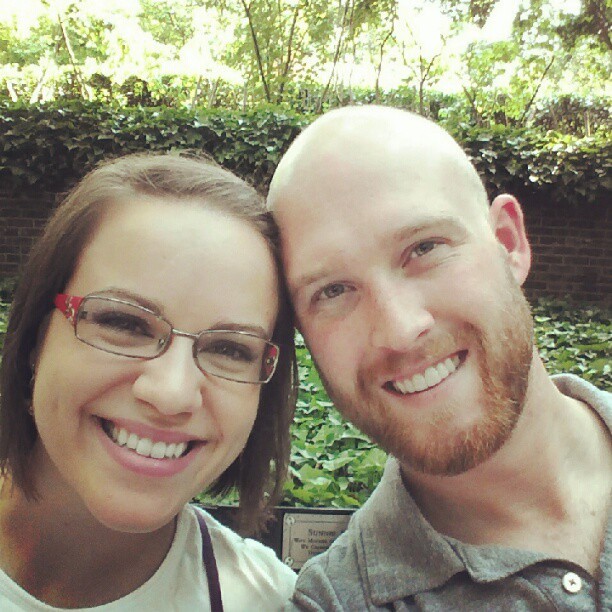 That was me in the winter of 2012. (The photo here is of happy times in summer of 2012 - such babies!) First of all, it was a gross, cold, winter. I was about to graduate college. I was overwhelmed by having just purchased our first home, and adopting two rescue dogs. I was feeling generally lost-at-sea about my future. The worst part was...
I was working full-time at a company that didn't value my skills, my enthusiasm or my gender.
I had heard that gender discrimination was still "a thing" but had never experienced it. And I'm lucky to say I only experienced it on a very, very small scale. It's. The. Worst.
So I picked up cross-stitching again.

It was a hobby I'd enjoyed as a child, and in an effort to assuage my misery, I began seeking out hobbies, music, and food that could be classified as "nostalgic." It definitely helped my mood to improve. I poured my energy into my projects. Namely, I saw an example of a cross-stitched family portrait and liked the idea but not the patterns. So I made my own, and Stitch People was born.
Creating and selling custom cross-stitched family portraits changed my life.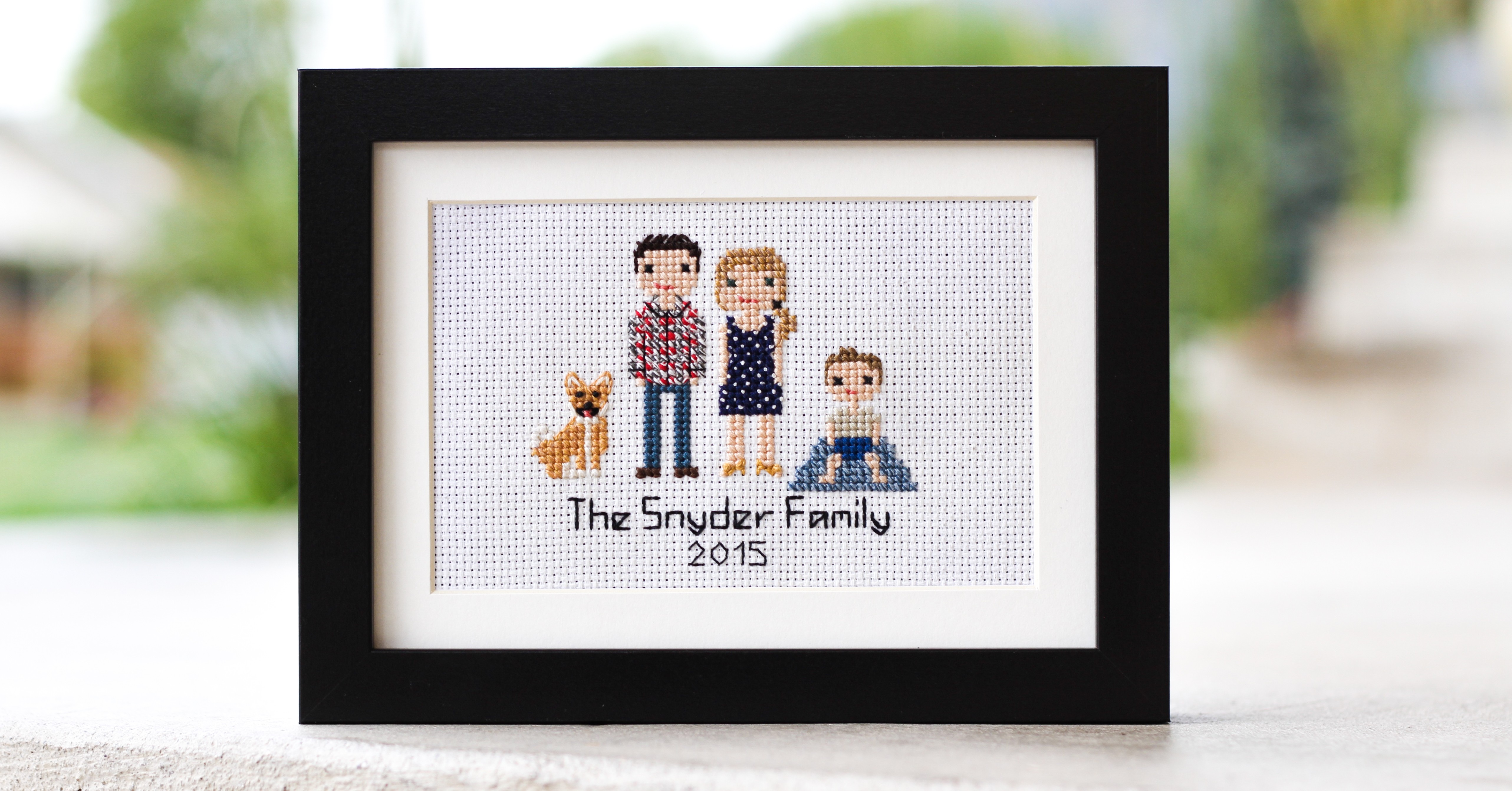 I began giving my portraits as gifts, then selling my portraits online. Then I developed the "Do-It-Yourself Stitch People" book, because I saw that people wanted to make their own portraits themselves. And now I see that people want to sell portraits, themselves, too.
So just like the DIY Book, I have worked with Spencer, my hubby and business partner, to pour all our knowledge that he and I have accumulated through our years of running our business into a course for you to get started with your own home-based cross-stitch business.
Selling cross-stitched portraits WILL CHANGE YOUR LIFE.

I repeat: Selling cross-stitched portraits WILL CHANGE YOUR LIFE.
Work from home. Be your own boss. Set your own hours. Be creative.
These things are within your grasp.
This isn't a gimmick or a tall tale. With Stitch People, I was able to stick to working enjoyable part-time jobs, and work the other "part-time" at my home, eventually quitting my other positions and ONLY working for myself. And you know what that means? Setting my own hours, taking my own orders, doing business my own way, and being my own boss.
Nothing is more freeing and empowering than working for yourself and we can give you the tools to do it, too.
Change your life. Free your creativity. Join us.